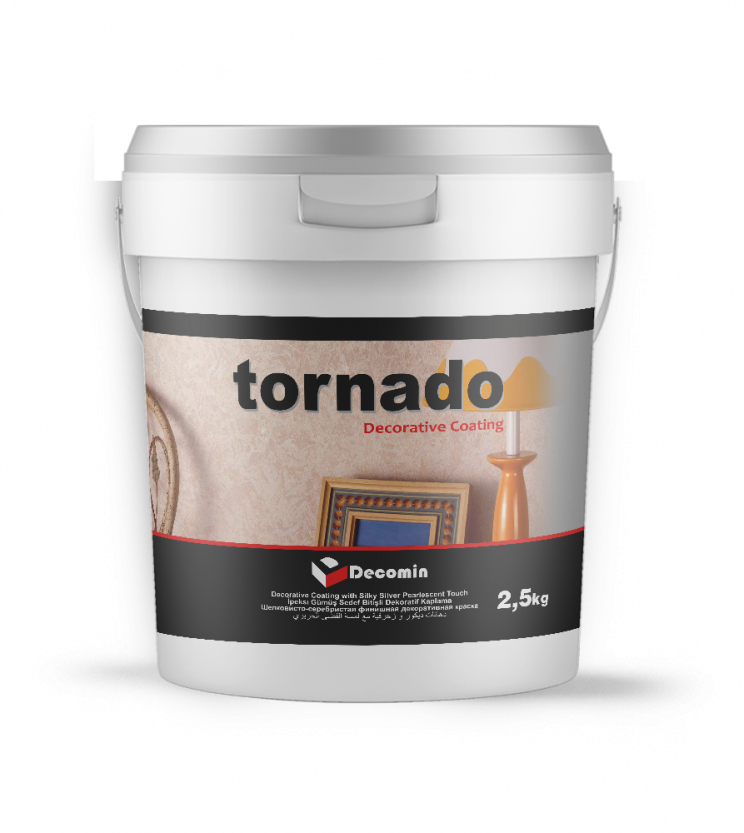 Project Description
Decorative Coating with Silky Silver Pearlescent Touch
Description: Acrylic emulsion based, silky silver mother-of-pearl decorative coating containing metallic pigments.
Application Fields:
Buildings,. It is used together with the surface preparation topcoat and suitable primer on walls, plaster, exposed concrete and wooden surfaces.
Features :
Thanks to the metallic pigments it contains, it gives a radiant decorative image.
Since it contains live and bright pigments, it gives a nice shine to the surface.
Thanks to its high water vapor permeability, it allows water vapor to escape and breathe.
Since it is water-based, it does not smell and does not harm human health and the environment.
Application instruction
After cleaning all kinds of dirt, oil, swollen paints and dust on the application surfaces, if there are any defects on the surface, they should be corrected with DECOMIN ACRYLIC PUTTY and primed with DECOMIN UNIVERSAL GRUNT
After DECOMIN UNIVERSAL GRUNT is applied, TORNADO is thinned with a maximum of 20% clean water and applied to the surface in 2 layers with a roller. While the material is still wet, patterns suitable for the desired effect are created on the surface with circular and straight movements with a plastic and steel trowel.
After DECOMIN UNIVERSAL GRUNT is applied, DECOMIN MULTIBASE, colored in accordance with the selected color, is diluted with 10% -15% clean water and applied to the surface in 2 layers with a roller and brush. After complete drying, TORNADO is applied on the surface with a trowel in one layer in accordance with the desired effect.
During the application and within 24 hours after the application, the application surface and the environment should not be below +5 °C.
Hand tools used in the application should be cleaned after the application.
CONSUMPTION
• On average, 0.150-0,300 it/m2 in one coat depending on the surface smoothness and application techniques.
Project Type
Decorative Paints -

Insulating Paints -

Water Based Paints -