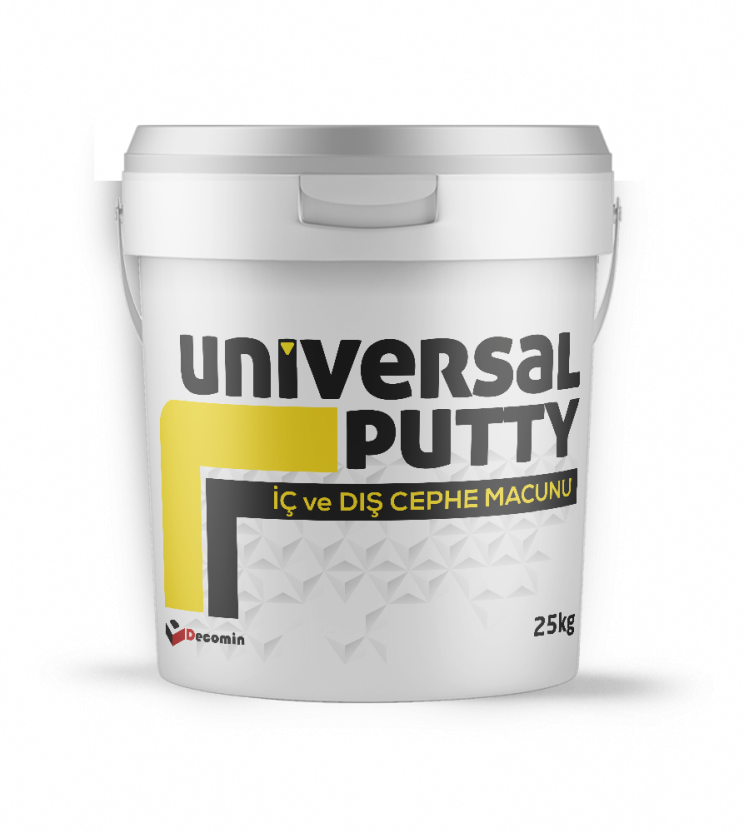 Project Description
UNIVERSAL WALL PUTTY THICK
DESCRIPTION
Acrylic emulsion based thick surface smoothing putty used for background preparation of water based paints in exterior walls.
APPLICATION
Used for filling the pores in the mineral based surfaces in exterior sides like concrete, light concrete, aerated concrete or plaster.
FEATURES
High adherence and breathing ability.
Forms a very durable, smooth and non-chalking surface.
Decrease in waste of paint.
Not much chalking during sanding.
Smoothing the surface with maximum 2 coats.
Water-based, odor-free; harmless to human health and environment.
SURFACE PREPARATION
Clean the surface of all dirt, oil, blistered paint and dust.
APPLICATION INSTRUCTIONS
UNIVERSAL WALL PUTTY THICK must be mixed thoroughly prior to application.
UNIVERSAL WALL PUTTY THICK must be applied with steel spud, as one or two coats depending on the surface roughness.
24 hours after the application of the putty, the defects on the surface and spud marks must be smoothed with sandpaper.
The environment of application must be kept between +5 °C to +35 °C within 24 hours during and after the application.
DRYING TIME
The contact time is 4-6 hours, and through-dry time is 24 hours in environment of 23oC.
PACKING
25 kg
THEORITICAL CONSUMPTION
Depending on surface smoothness, porosity and application methods, for a single coat application:
With 1 liter of paint 2,2 – 4,5 m² area,  with 1 kg of paint 1,25 – 2,5 m2 area can be painted. Paint consumption for 1 m2 area is 230 – 460 ml and 400 – 800 gr.
STORAGE
Store in enclosed packaging for 1 year between +5oC to +35oC.
PRECAUTIONARY STATEMENTS
P 102                   Keep out of reach of children.
P 301+ P 310     IF SWALLOWED: Immediately call a POISON CENTRE or doctor/physician.
Note: For more technical information, please check the Material Safety Data Sheet (MSDS) of the product.
Project Type
Decorative Paints -

Insulating Paints -

Water Based Paints -